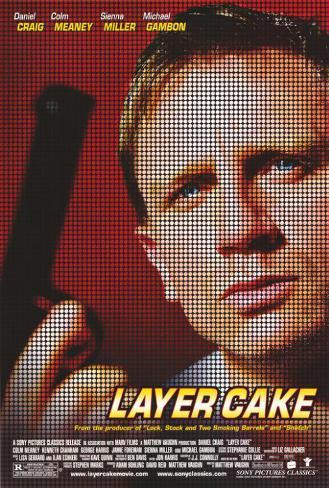 As a Guy Ritchie fangirl, this used to be my go to film for those who've exhausted his roster of jacked up crime flicks.  Although, produced by the same company behind Snatch and co, Layer Cake is directed by another British Gem, Matthew Vaughan.  You heard me, the very same genius behind, say it with me, Kingsman.
In this audition for James Bond, Daniel Craig stars in this adaptation of JJ Connelly's novel as a drug dealer planning for his retirement.  When asked by his boss to help locate a missing woman, and getting into a bad deal with stolen pills, his perfect plan gets derailed. Hi-jinx ensue.
This is not a simple rehash of your typical British crime flicks, but it does have that same list of quirky characters, interwoven subplots, and British slang you wish you could pull off without sounding like a twat.  It is a lot more colourful and upbeat in appearance (does that make sense?) than what you've seen from Ritchie, but still reminds you of the writing style.  If you're in it for a complex story, or just for a British drug romp, this is the one, baby.
This also has both one of my favourite soundtracks and favourite scores, since you asked.
Great if you liked: Snatch, Lock Stock and 2 Smoking Barrels, Gangster No. 1, Rock N' Rolla, The Man From U.N.C.L.E., Revolver, Fight Club, Reservoir Dogs